Portuguese textiles will surf the ecological wave at Première Vision
At Europe's largest textile fair - Première Vision Paris - the Portuguese industry is preparing to make itself known by presenting a series of new articles, where sustainability is not just a trend, but a fully integrated reality. Between February 11th and 13th, the Portuguese colors will represent a vast business delegation, which crosses all sectors of the Portuguese textile sector.


ACCESSORIES: BORDADOS OLIVEIRA - SOLINHAS
FABRICS: A. SAMPAIO & FILHOS – ACATEL - ADALBERTO ESTAMPADOS - ALBANO MORGADO - AVELANA - FABRICA DE MALHAS SA - CRISPIM ABREU – FAMILITEX – FITECOM - GIERLINGS VELPOR - JOÃO & FELICIANO SA - JOAPS MALHAS - LA ESTAMPA – LEMAR - LMA- alitecno® - LUIS AZEVEDO & FILHOS - LURDES SAMPAIO - NGS MALHAS - OTOJAL- OTS - PAULO DE OLIVEIRA – PENTEADORA – RDD – RIOPELE - SIDÓNIOS KNITWEAR - SOMELOS TECIDOS – TESSIMAX – TEXSER TEXTIL SERZEDELO – TINTEX - TMG FABRICS - TRIMALHAS - TROFICOLOR DENIM MAKERS
MANUFACTURING – PROXIMITY: ANJOS & LOURENÇO - LIMA & COMPANHIA SA - R. LOBO – SIENA - SOEIRO
MANUFATURING KNITWEAR: ORFAMA
SMART CREATION: ADALBERTO ESTAMPADOS - iTechStyle GREEN CIRCLE - RDD TEXTILES - TINTEX TEXTILES
YARNS: JFA – LIPACO - MAF/ FILASA – TEARFIL - TRIFITROFA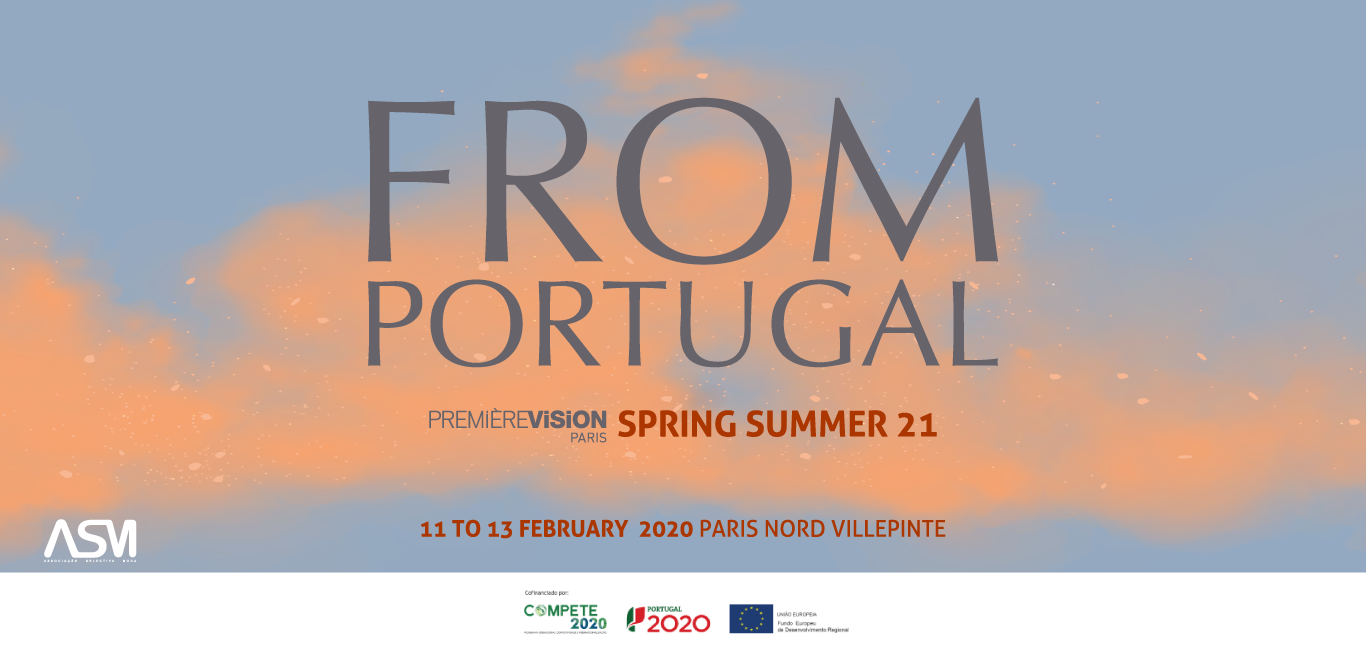 Twice a year and for over three days, the international industry meets in Paris for Première Vision, the largest European textile fair, where the entire supply chain - from yarn to fabrics, knits and clothing - is represented to set new trends. Already a regular presence at the event, Portugal will be represented by a strong and outstanding business delegation in the fair's first 2020 edition, which will take place from February 11th to 13th.
A.Sampaio, Acatel, Albano Morgado, Anjos & Lourenço, Avelana, Bordados Oliveira, Crispim Abreu, Familitex, Filasa, Fitecom, Joaps, João & Feliciano, Lemar, Le Europe|La Estampa, Lima & Companhia, Lipaco, LMA, Luís Azevedo & Filhos, Lurdes Sampaio, NGS, Otojal, R. Lobo, RDD, Sidónios, Solinhas, Soeiro, Texser, Tintex, Trifitrofa, Trimalhas and Troficolor make up the vast entourage present at Première Vision with the support of the From Portugal project, accompanied by other Portuguese companies such as Adalberto Estampados, Gierlings Velpor, JF Almeida, Paulo de Oliveira, Penteadora, Riopele, Somelos, Tessimax and TMG.
Over three days, tens of thousands of visitors are expected, mainly professionals from the fashion and clothing sector, looking for new trends for the next season. Buyers, distributors, designers and representatives of major international brands are part of the universe of visitors who traditionally visit the Paris fair. With such a specialized audience, the Portuguese industry reinforces its image of sustainable manufacturer, capable of respecting the new demands of the market.
"Première Vision Paris remains one of the main fairs in which we participate. It is at this fair that we receive brands from all over the world, and with great potential. We continue to invest in improving quality, sustainability and also innovation", says Carla Araújo, commercial manager at Joaps, a company specialized in knitwear, which in Paris will present a new collection, focused on ecological products. "Last year we bet on several certifications: GOTS, GRS, OCS and BCI", recalls the company's representative.
"This is the most prestigious fair in the fabrics and fashion manufacturers area", adds Ricardo Ferreira, Siena's CEO. The company, which specializes in knitted clothing, will present a new collection, also with a strong focus on sustainable fibres. "We work for clients from more mature markets, such as France, Northern Europe and North America", explains the manager.
João Lima, Trifitrofa representative, a company specializing in the yarn trade, also seeks to stand out for its commitment to sustainable articles. "We want to increase business abroad and for that we are focusing on organic cotton in different colours and blends", he says. France and Italy are the markets that the company seeks to reach.
At the Lurdes Sampaio stand, the spotlight will be on responsible production. "The great novelty is our Green Collection: we have products made from recycled, biodegradable and natural organic fibres, this being the most important line in the entire catalogue", explains Conceição Sá, CEO and co-founder of the Famalicão company, which specializes in knitwear. "We have good expectations. The United States market continues to grow, and some markets in Europe have an interesting dynamic".
"Expectations are always high at this event, as it brings together professionals from all over the world, promotes networking with current and potential customers, and allows meetings with various agents", adds Belmira Rodrigues, representative of the textile Albano Morgado. Historically dedicated to wool fabrics, the company will present in Paris new products made from organic cottons and linens.
RDD, from the Valérius group, brings to Paris the brand's big novelties for the next season: Undyed Cotton, a sustainable fibre that allows to save ten litres of water for each kilogram of mesh produced. "In addition to avoiding waste, this unprocessed cotton range expresses a minimalist and timeless aesthetic," says Elsa Parente, the company's CEO.
Also with a new summer collection, La Estampa travels to Paris to conquer new markets. "We are focused on signing new customers, mainly from France, Italy, Sweden and Spain," says Joana Silva, the company's representative. Preparing for the fair, the company already has meetings scheduled with possible customers.
With sustainability as its mantra, Troficolor also seeks to affirm a new collection of products. "Our creative department gave once again special importance to the worldwide concern with the environment", explains Carlos Serra, CEO. Specialized in denim, the company will present a wide range of organic, sustainable and recycled items, from which the upcycling of old collections stands out - "with this solution we rethink and recreate products, wasting 0% water, 0% energy, 0% chemical agents, and 0% CO2 emissions ", stresses the entrepreneur.
At the Luís Azevedo & Filhos stand, the lights are also green. "We have a series of sustainable articles. Our last collection was directed towards that trend, and was very well accepted", comments Sílvia Azevedo, representative of the company. "We try to reach the French, Spanish and Scandinavian markets", he explains.

A.Sampaio, a company specialized in knitwear, in addition to sustainability is also betting on technicality. "We continue to invest in sustainable materials, whether they are recycled, biodegradable, etc. High added-value and technical fibres are also the focus of our collection", explains João Mendes, administrator of the knitting company, which already has meetings scheduled at the fair.
The Portuguese companies participation in Première Vison is an initiative of Selectiva Moda and ATP - Textile and Clothing Association of Portugal, which aims to promote the internationalization of Portuguese fashion companies. The project "From Portugal" is co-financed by Portugal 2020, under Compete 2020 - Operational Program for Competitiveness and Internationalization, with an eligible support amount of €11.042.311,82, of which €6.065.501,91 comes through the European Regional Development Fund.